The Estuary Monitoring System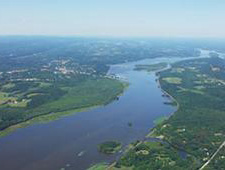 Beczak Center's Estuary Monitoring System brings the conditions of the Hudson River to your computer in real time. In December 2005, we installed a high-tech water and weather monitoring station in the river just outside of the Center's marsh. The equipment records weather conditions such as air temperature, barometric pressure, wind speed and direction, and rainfall, as well as water conditions in the river including temperature, salinity, pH and dissolved oxygen. The data, which is transmitted to a computer in the Beczak Center via radio telemetry, will be part of an interactive exhibit focused on the dynamic conditions of the Hudson River Estuary and will be integrated into several of our programs.
The Estuary Monitoring System is currently undergoing maintenance repairs. Water data is available and weather data will be up soon. We apologize for the inconvenience.
On the monitoring data website, water and weather parameters can be selected individually or viewed with other parameters. A range of dates for data can be selected and the data can be displayed as a graph or in a table, and can be downloaded to a spreadsheet.
Key to Abbreviations Used on the Monitoring Data Website: